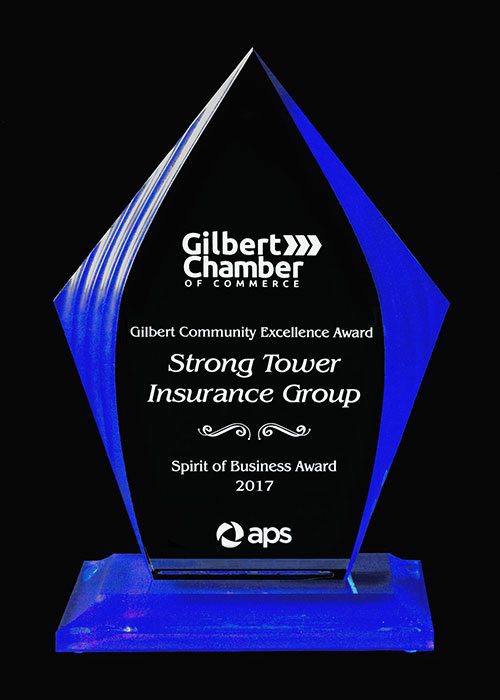 Strong Tower is honored and humbled to be chosen for the "Spirit of Gilbert" Business Award – Thank you
A Gilbert business that actively participates and gives to community programs. This business is always involved in helping other community organizations that enhance our quality of life, and generously gives back to Gilbert.
Since 1989, the Uhlhorn Family who own and operate Strong Tower Insurance Group and their employees have never stopped giving back to the Gilbert Community:
Gilbert's Youth – Special Olympics sponsors and volunteers; Christ Greenfield Church Youth Ministry for 27 years volunteering and donations; Gilbert Educational Foundation; Boys & Girls Club; Public School Sports; Gilbert's Arsenal Soccer League; Gilbert National Little League for 20 years to name a few.
Gilbert's Community Fellowship – Gilbert Days Parade participants; Gilbert Chamber of Commerce for 27 years; Midwest Food Bank monthly and weekly volunteer group; Matthew's Crossing donation and volunteering; United Food Bank annual drives; Gilbert Senior Center Holiday gifting; Gilbert Leadership Program; Men's Ministry to name a few.
Arizona Action and Giving – ASA Now (Foster Family Assistance), Sunshine Acres, Warfighter Sports, JFCS and more.
Strong Tower doesn't believe in just writing checks, although we do that too, our philosophy is to "serve". We rarely say no to an opportunity to roll up our sleeves and pitch in – in fact we prefer it. Whether it's volunteering time to Gilbert Community fund raising activities, work projects, sporting events or even the more challenging service of taking foster infants and toddlers into our homes (yes, Marty and Wife have been doing this for four years), Strong Tower Insurance Group is built on the "spirit of service" to others.
Yes, as a business we must remain solvent for ourselves, our employees and our customers who have put their trust in us. But for Strong Tower Insurance Group, all this is a means to an end – serving others as Christ's example taught us.